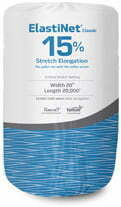 A powerful pallet wrap with stretch and outstanding snap-back capabilities.
ElastiNet® Classic with the unique Reflex Action stretches to grip any shipment size or shape, and amazingly retracts to nearly its original length – without stretching your budget.
ElastiNet® Classic is specially engineered to meet the most rigorous demands and rugged conditions.
Specifications
| | | | |
| --- | --- | --- | --- |
| Brand Name | Width | Length | Rolls per Pallet |
| ElastiNet® Classic | 50cm | 6,000m | 32 |
| ElastiNet® Classic | 50cm | 3,000m | 60 |
| ElastiNet® Classic (3" core) | 500mm | 1,000m | 224 |
| ElastiNet® Classic (2" core) | 500mm | 1,000m | 224 |
Technologies
ElastiNet® Classic Technology
ElastiNet® Classic takes the elasticity in elastic pallet net to the simplest form – you stretch the net by hand or using a wrapping machine,
to get more meters and it tries to go almost all the way back to its original length, gripping the load and securing it for storage or shipping.
ElastiNet® Classic is more forgiving towards less durable packages and corners of boxes, making it suitable for the lighter weight loads in addition to the heavier loads.
The 15% elongation makes the ElastiNet® Classic more adaptable to simpler wrapping machines and not only for the more advanced systems.

Air Flow
All of Tama's pallet nets allow nearly 100% air circulation.

Elongation
ElastiNet® Classic comes with guaranteed 15% elongation in normal conditions, resulting in more wrapped loads.

Reflex Action
To provide superior load retention, after stretching, ElastiNet® Classic snaps back and is retracted almost all the way to its original length.

Strength
ElastiNet® Classic grips every corner and curve, and thanks to its unique production technique optimum elongation is easily achieved.

Protection
ElastiNet® Classic secures the load and keeps it whole for all the length of the harshest journey.

Versatility & Adaptability
ElastiNet® Classic can be used for all types of shipments in manual or machine applications, and is adaptable to most existing wrapping machines and brake systems.

Security
When wrapped over the top of the load, ElastiNet® Classic adds the needed extra security.

Environmentally Friendly
More wrapped loads, less waste, and totally recyclable.