TEWE Small Square & Round Baler Twine
Small Square & Round Bales
TEWE twines have proven for 40 years that high quality saves both time and worry in the field.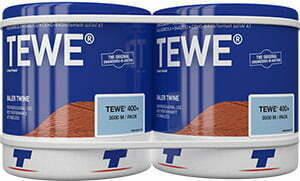 Type 400+
Pack length 3500m
400+ is suited for all kinds of small square high pressure balers, with extra pack length for more output per baler load.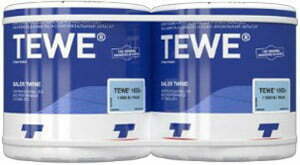 Type 1000+
Pack length 11660m
1000+ is the latest and most technically advanced version of small square baler twine, with more meters per pack. The ultimate economical solution for round baler twine!
Specifications
| | | | | | |
| --- | --- | --- | --- | --- | --- |
| Name | Spool Length | Pack Length | Pack Weight | Colour | Pack per Pallet |
| Type 250 | 1075m | 2150m | 10kg | Blue | 80 |
| Type 350 | 1450m | 2900m | 10kg | Blue | 80 |
| Type 400 | 1750m | 3500m | 10kg | Blue | 80 |
| Type 400+ | 1750m | 3500m | 8.75kg | Rust | 105 |
| Type 1000+ | 5830m | 11660m | 11kg | Blue | 80 |
Very reliable in highest, constant quality

Best tear resistance

For a high bale density

Highest application security