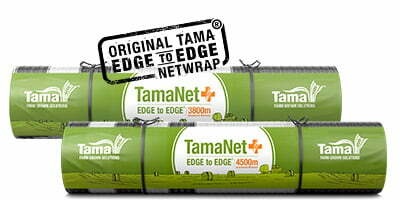 TamaNet+ is made with a unique process developed exclusively by Tama. Choose the right product for your needs:
3800m | 4500m
We know that the last thing you need, is one more thing to worry about. When you get that window for baling, you need a net that will  perform, no hassles and no questions asked. And that's what you get with TamaNet+.
Reliable, trouble-free baling
Perfect bales every time
In all balers
In all conditions
Specifications
| | | | | |
| --- | --- | --- | --- | --- |
| Product Name | Roll Length | Width | Roll Diameter | Roll / Pal |
| TamaNet+ Edge to Edge™ | 4500m | 123cm | 29cm | 28 |
| TamaNet+ Edge to Edge™ | 3800m | 123cm | 27.5cm | 28 |
Technologies
Edge to Edge™
Edge to Edge™ technology is a breakthrough created by Tama, which enables the net to maintain its width when feeding onto the bale, so covering the entire width of the bale. This unique ability gives the maximum protection to the crop as well as helping to maintain the bale's shape, reducing crop loss when handling and making storage easier.
Bale+™ Technology
A technology innovation by Tama that combines a special mix of advanced raw material with a unique manufacturing process,
providing the unique combination of:
MAXIMUM AVAILABLE ROLL LENGTH – for maximum baler utilisation (50% longer length than a standard 3000m roll).
ROLL WEIGHT – the ONLY technology able to achieve both roll length and netwrap strength within a workable roll weight.
ROLL CONSISTENCY – a uniform and consistent netwrap for continuous trouble-free operation.

ZEBRA® System
An easy identification for simple end-user handling benefit. The asymmetrical striping pattern across the width of the net gives the operator a very clear 'left/right' indicator when loading the net into the baler, and also shows clearly which way to unroll the bale when feeding out.

Roll Carry Handles
For easier and safer handling (patent pending).

Roll End Warning Stripe
A visible red stripe within the net to indicate the end of the roll is approaching, avoiding the risk of wrapping a bale with insufficient net available.

Guaranteed Minimum Length
Every roll contains the guaranteed stated length, not a "plus-or-minus" average.